There's one sure way to realize that you are "in and not of" this world: Go shoe shopping.

Warning: Images are heavy. Like sumo wrestlers :) Lots of pics for ya'll.



Oh yes, yes, there's a story here. This morning when I went to work I intended to quietly go about my day and then come home to sleep. What ended up happening was a bit more fun!

At lunchtime my family decided to go out to the Cave, so I took some extra lunch hour time to go out with them. We had made a reservation, so they gave us the Goblin's Lair... Which is a nice area. We have some pictures, this being the best.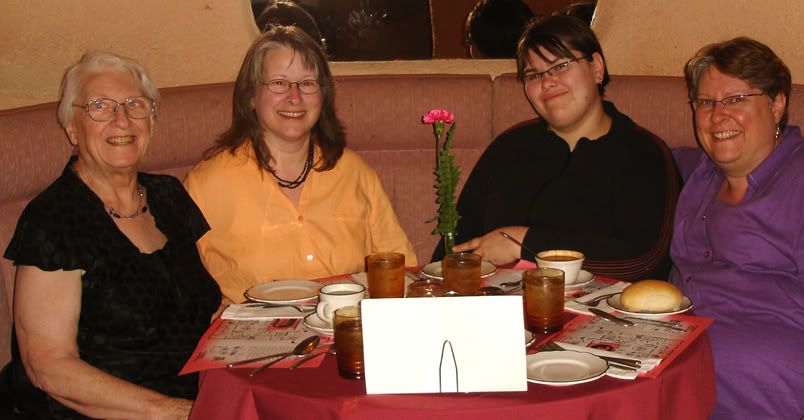 L to R: My Grandma, My Aunt, Me, My Mom - special thanks to our waitress :)
After this, I secured being picked up after work, and went back to work - I got to do secretarial duty a bit today again and as I've said before, I really do enjoy that.

After work when I was picked up, they asked if I'd go in to get some groceries. We were heading downtown, so I mentioned something I'd had a sudden urge to do today: Go shoe shopping. And being good family members, they let me go and drove me to the mall. Adventure ensued.

I went to the Midtown Mall - the one that has one ad I hate, and one ad I love. The ad I hate? A guy in a dumb looking suit that looks kind of like Simon Cowell, he's also wearing a stupid grin and a pretty model in a flouncy dress. I don't know why I hate it so much, except I just do. And I just found it on their website: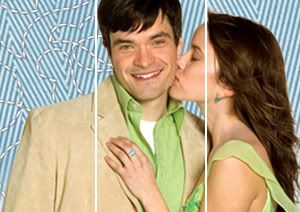 Does anyone else find it annoying?

And the ad I love? A woman from the waist down, wearing a skirt - the caption? "Skirts worth shaving for." So true, so true. Can't find a pic for you though. Not sure you need one.

Anyways, so I first go to the Bay. No luck, though the lady who helped me was tall and chubby like me, and she told me to write out a comment card. She said everytime someone comes in with a larger shoe size than is normally carried, she makes them write a comment card. She says she's had enough comments lately that by the next summer season, it's likely the Bay higher-ups will listen and order larger sizes - even advertise for customers that way. Especially since the Bay already carries plus size clothes for women - they could practically monopolize for the more expensive shoes...

Next, I went to a few ritzy stores, and had no luck, although if one shoe had been just a tiny bit longer it would have been exactly what I was looking for... I was a little depressed by this point. Truthfully, the reason I wanted to go shoe shopping today is that I actually felt like my self-esteem is pretty good - thus I can handle shopping. Shopping for shoes or clothing without self esteem is rather akin to walking up to someone and asking them to slap you as hard as they can - weird, painful, and can result in tears.

So after this I wandered into AdditionElle to see if they had the swimsuit from the window in my size (they were on sale and one can always use another swimsuit) and one thing caught my eye. I had a spiritual moment, in fact. It was a beautiful negligee, not really sexy or anything, just so ME. And the first thought that struck me was, "If I were getting married soon, I would wear that on my wedding night." And since I'd just walked out of two shoe stores realizing that the header to my LJ post for the evening was already written, and it wasn't very encouraging, I stuck it back on the rack and walked out angry at myself, angry at the world, and above all livid at the shoe industry for not recognizing the need for larger sized shoes in pretty, flattering, heeled, strappy, or even work-based stuff. And above all of that, most of the time I still don't think I'll ever find someone who will care about me... I walked away. And as I left, I said to myself, that if in the course of that shopping trip I could prove to myself that I was an attractive, beautiful human being in spite of all my shortcomings, I'd come back for it before the day was over.

Then I went to Ardene's because a specific pair of flipflops caught my eye, and before I knew it, I'd walked out with 8 pairs of really cute flipflops and even cooler, I finally found a mini flipflop keychain I liked, which was definitely a nice thing to find. Still, I felt cynical - after all, I had to trade dreams of a nice pair of low wedge heels for more flipflops. Even on sale, still not the best thing to settle for. Even getting 8 pairs for $20 didn't quite lift my mood. I got some food at this point, but it wasn't very good, so yeah. Well, the Greek salad, 2nd one of the day, was very good. I love greek salad. I'm glad I tried it that one fateful day - I'm not one to get out of my food habits - I'm just getting out of the habit of ordering the same thing every time I go to a place. I'm starting to enjoy variety.

Then I went upstairs to the second level of the mall and found Payless. I walked in not expecting too much, I've often not found a lot of shoes that fit me there. Little did I know! There was a friendly staffperson there as well who was very excited about the new stock, and the Buy one, get one half off sale. I hoped I could find two pairs to take advantage of that. Then I started trying stuff on. And she started suggesting pairs. And before I knew it, I was staring in awe at 4 pairs of shoes that I was going to buy. And as I bought them, they came up at $88 - that's FOUR pairs of shoes. These pairs. The one pair didn't have a stock photo on the website, so I photoshopped it into one!

I found what I was looking for: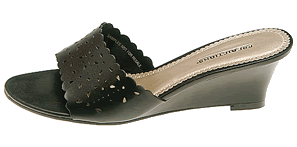 They're so beautiful. Oh man. I nearly cried with happiness when they fit!!

My second functional/pretty pair - the one I photoshopped: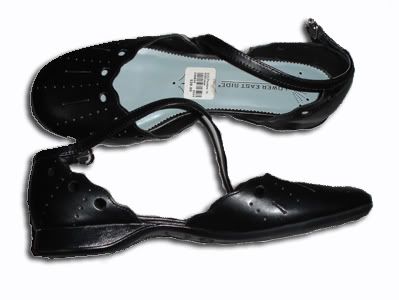 What's awesomely impressive about these is that the ankle straps go around my leg! Amazing, eh? They look awesome too.

I've been looking for some sensible brown work shoes for my sensible and not so sensible brown skirts/pants: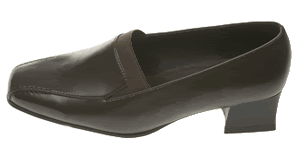 These look fantastic with my one skirt that I love. I did a fashion show with all of these at home :)

A popular pair of loafers that go out of stock fast from what I heard: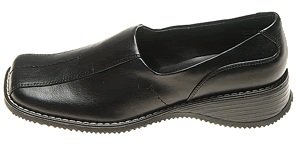 These square toes are so cool looking with pants - they look professional and cool!

And then when I walked out of there, four bags of shopping weighing on my arm, I walked back to AdditionElle, and bought my negligee. Which I've realized since that point would actually be a very nice sundress if I take the stupid little bow that screams "This is nightwear!" off the front of it. I took a photo of the detailing that made me fall in love with it. Hopefully someday, since this will last me through a lot of weight loss, it can be for my wedding night... We'll see.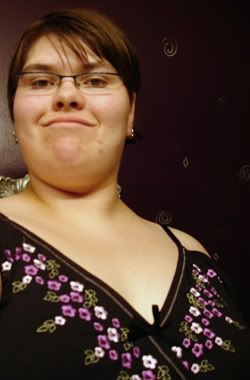 Then I went to Starbucks, and since they finally had an orange coffee mug with a viable top on it - something I knew wouldn't leak and was reliable - I bought it and a coffee. I needed the coffee, too. By that time I and my feet were sore (Yay sensible shoes! Actually my Nike basketball shoes with amazing Dr. Scholl's liners) and I was cold and my hands hurt from bag-handle-cutting nastyness. Then I took the bus home.

And downloaded Skype so I can cheaply call Roberta in the Ukraine, which is 9 hours later than here. Meaning that at around midnight it's going to be about 9am, a decent time to call her if I can get Skype up and running. Also, if any of my US or Canadian friends have Skype and want to talk, I'll let you know about whether it works or not.

That's all I have to say, and this post took me an hour to write, so you should appreciate it! =)